The Senior High's Art Department's new show, "Memory Lane," contains both pieces about the theme, and pieces the visual arts students have chosen to display. This show is different than previous years' shows, as the department decided to add interactive elements into the show.
This isn't a completely new concept for their art shows—students occasionally invite viewers to draw a mark onto an installation or an immersive piece—but this year's AP Drawing and AP Studio students took this a step further. There are six interactive areas throughout the show: "Hand-Turkey" cards, painting puzzle pieces, a massive "doodle" page, a photo-op featuring Edvard Munch's "The Scream," friendship-bracelets, and fortune-telling. 
"I originally was looking for something to 'draw' people to the show," senior Moksha Davaloor, who suggested the interactive idea, said. "I think [the result] was very unique to our show and set it apart from the shows we've had in the past."
The reasoning behind the interactive areas was to not only draw interest, but also to allow those in attendance to create memories themselves, aligning with the theme of the show.
"Guests were able to make art in order to make memories or share them with family and friends," National Art Honor Society Officer Sydney Denk said. 
Besides the new engagement at this show, the pieces displayed reflect the vast and diverse wealth of creativity throughout the students in the department. AP students are beginning to display their Sustained Investigation portfolios, which will eventually consist of 12-15 finished pieces by May. These portfolios revolve around a singular theme, and allows the artist to develop their skills and education.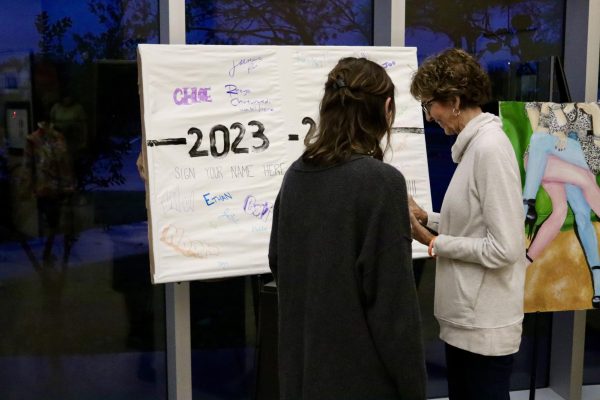 "Lots of amazing work was submitted, and we are infinitely grateful for everyone that came and spent their time with the Art Department," NAHS Vice President junior Nick Ferrara said. 
The lower-level classes also have a multitude of pieces displayed. Painting, taught by Summer Neimann, displayed paintings with a wide array of subject matters. Advanced Drawing, also taught by Neimann, showcased their portraiture, mostly in charcoal. Due to this wide array of both subject matter and media, a diverse crowd of families was drawn, and allowed for the art to be interpreted in many different ways. 
​​"My favorite part of the show was seeing all the kids, mostly younger siblings of students, look at the work and how interested they were in the pieces," NAHS member senior Molly Erickson said.