Austin's annual music festival, Austin City Limits, wrapped after the two first weekends of October, drawing around 450,000 people. Three days of music over the two weekends is a massive amount of music to consume, and always presents an opportunity to hear new music, and, of course, see your favorites. Combined with the solar eclipse on Oct. 14, this year's festival has been one of the best I've experienced. Here, I've compiled a list of some highlights over the course of the second weekend that I saw. 
Friday
Who you might know:
Raye: "Escapism." and "Oscar Winning Tears."
British singer/songwriter Raye has had one of the best years of her career. She started off as a ghostwriter, and has been in the industry since 2014. After signing onto a label that same year, she continued to work on music, eventually putting together a debut record. However, that album was blocked from being released for seven years, and eventually she left the label and went independent, releasing "21st Century Blues" this year. 
Her performance reflected that newfound freedom, and highlighted the large, important topics she tackles in her music. Surrounded by a full band in white tuxedos, Raye sang her bluesy, R&B, pop-tinged songs effortlessly, and continued to spread awareness of the issues she's faced in the past, like sexual assault. 
Maggie Rogers: "Alaska" and "Want Want"
One of my favorite shows of the weekend was Maggie Rogers' energetic sunset performance. The crowd was buzzing with excitement, and Rogers reflected that excitement in her performance. Her Weekend Two show was her last for the tour in support of her sophomore album, "Surrender," but she played an unreleased song from her upcoming third studio album. She danced all over the stage, and had some of the most onstage energy that I saw at the festival. If you haven't checked her music out yet, you definitely need to.
The Lumineers: "Ho Hey" and "Cleopatra"
The Lumineers was one of the most shocking sets I saw during the festival. I saw them a few years ago open for U2, and that was okay, but this was like a completely different band. It could have possibly changed due to the setting (the band had a stage that projected out from the main stage during ACL into the crowd, and they often performed there instead of at the main stage, making the experience more immersive), or the crowd, but this show was incredible. I chose to see them over Kendrick Lamar, just because of the nostalgia I have with their music, and I'm so glad I did. It was a little over an hour of excellent instrumentation, vocals, and visuals, with a piano-playing stuntman of sorts that bounded up and down the stage. Their set was a highlight of Friday for sure.
Kendrick Lamar: "HUMBLE." and "Alright"
Kendrick Lamar's set was akin to a theatrical performance. The show involved "clones" of himself, and murals that unfurled across the stage for a backdrop. The show was of course jam-packed with energy, and the crowd was constantly jumping and moving. The doubt surrounding Weekend Two's performance was deserved, since he showed up over an hour late on Weekend One, and had to perform a massively abridged version of his setlist. However, he was on time for the second weekend, and gave it his all. 
Who you should check out:
Ethel Cain: "American Teenager" and "House in Nebraska"
Another rising star, Ethel Cain's alternative gothic country style was made to be performed. Raised Southern Baptist, Cain's work has clear religious overtones, and she often writes about her struggles with religion, family, and other relationships in that vein. Her lyrics are image-packed, and you can truly get a feeling of the "midwestern gothic"-vibe Cain exudes. Her work is reminiscent of Florence + The Machine, as well as contemporaries Boygenius, Weyes Blood, and MUNA.
Saturday
Who you might know:
Declan McKenna: "Brazil" and "British Bombs"
Declan McKenna had a breakout success with "Brazil," a protest song about the 2014 FIFA World Cup in Brazil, and the political controversy of the location. The energy McKenna puts out in this song is palpable, and that came through in his performance. The final song of his set, another protest song, "British Bombs," had the entire crowd screaming as McKenna jumped and ran through the crowd belting one of the lyrics, "If it's not a f****** war crime, then it's a total waste of your time." It was fantastic.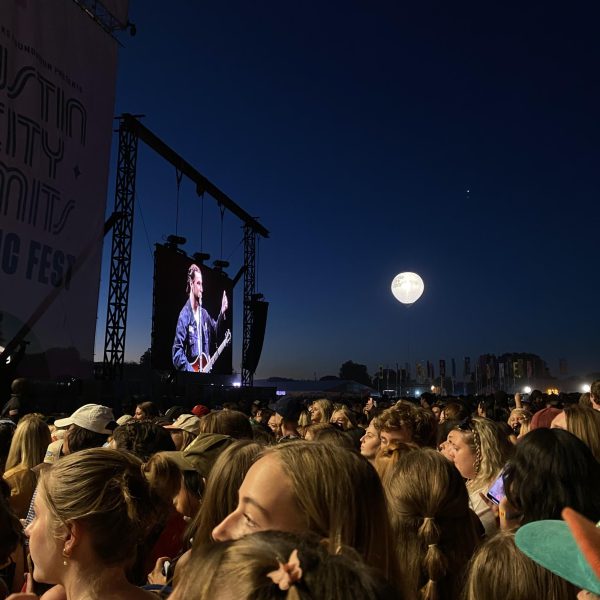 Noah Kahan: "Stick Season" and "Dial Drunk"
Noah Kahan has been making music since 2017, but his real breakthrough has been with his third studio album, 2022's "Stick Season." The album has reached a far wider audience, and features a much more folk-forward sound than his past work. The album's title references the time in Kahan's home state, Vermont, when the trees have lost their leaves, but the first winter snow hasn't fallen yet. 
His show drew a vast amount of people, and it was a shockingly small stage for him to be performing on, considering his exponentially growing popularity. I was about 15 feet from him, and I don't think I'll ever see him that close ever again—on October 15, for his Dallas show (upgraded from Toyota Music Factory), he played at the American Airlines Center, which has a capacity of 20,000. Despite the small venue, he put on a show much larger than life, rocking out with only a few members, and incredible vocals. For the heart-wrenching song "Call Your Mom," he brought out Mumford and Sons, and for the first weekend, he played with Mt. Joy's song, "Emily," with the band. 
Foo Fighters: "Monkey Wrench" and "Aurora"
For the rock band of the year, Foo Fighters was a great pick for the festival. In a nearly two hour long set, the band covered 29 years of music, in an epic fashion. Frontman Dave Grohl is hilarious and engaged with the crowd, and the whole band was great. Foo Fighters embody the best qualities of rock music, the guitar-shredding, frenetic, dark sound, and the headlining spot was perfect for them
Shania Twain: "Man! I Feel Like a Woman!" / The 1975: "Robbers" and "I'm In Love With You"
Shania Twain (Weekend One) and The 1975 (Weekend Two) alternated spots between weekends, as they're both on their own respective tours. Both put on solid shows, but neither put on a show as great as their opposing headliner, the Foo Fighters. 
Who you should check out:
Miya Folick: "Get Out of My House" and "Bad Thing"
Miya Folick was an artist that I stopped by prior to the artists that I knew, earlier in the day. She's a smaller artist, and it does show. There's always a higher level of professionalism that comes with artists who perform later in the day, and Folick didn't have the perfect, carefully-crafted image they do; she lost the keys to the van that had all of the band's instruments in them (I believed they borrowed Michigander's guitars). Despite the rocky start of the day, her show was great with what she had. Folick's "Bad Thing," co-written by Mitski, was a highlight, and her witty, occasionally humorous, and emotional writing is fantastic. 
Jessie Ware: "Free Yourself" and "Spotlight"
Not many people are bringing 70's disco back into vogue, yet Jessie Ware is doing it, and doing it well. During her joyful, vibrant midday performance, Ware showcased her vocal chops and festival-friendly music. Her most recent album, "That! Feels Good!" is full of dancey, upbeat bops that are a sonic departure from her previous works, and the songs are perfect for the festival stage. Overall, she fits into the electronic soul genre, and is certainly worth a listen. 
Sunday
Who you might know:
Niall Horan: "This Town" and "Slow Hands"
Niall Horan put on a solid show on Sunday afternoon. His music is very easy on the ears and his more mellow music allowed his voice to shine. He drew a large crowd, especially due to his fourth studio album, "The Show." Horan delivered the sweet songs with a warm kindness that was felt throughout the crowd—everyone was softly singing along, besides the far louder crowd close to the stage. He of course paid homage to his One Direction days, and played "Story of My Life." He also performed a cover of "Everybody Wants to Rule the World," which felt a bit out of place, but it was a pleasing show nonetheless.
Hozier: "Take Me To Church" and "Almost (Sweet Music)"
Everyone knows "Take Me To Church." Everyone. Even if you don't know it fully, you know the chorus, and that's exactly what was clear during Andrew Hozier Bryne's sunset show on Sunday: everyone knows Hozier. His large, booming voice was accompanied by a full band, and several backing vocalists. While I am a fan of his work, he did a great job of crafting the setlist, and it was hit after hit. His third, and most recent, studio album, "Unreal, Unearth," continues his signature soaring vocal motive, and it was beautiful to hear live. 
Who you should check out:
Michigander: "Misery" and "East Chicago, IN"
This was one of my favorites of the weekend, and for good reason. Michigander is a project by frontman Jason Singer, born and raised in Michigan—"Michigander." The band's discography is rock-oriented, and remarkably short, with a debut album on the way. Singer played like a rockstar—tossing his guitar into the air—and seemed to have a genuinely fantastic time. The band was great, and Singer's confidence and comfort as a performer was apparent. It was simply great, and I'm surprised the project hasn't blown up yet.
Del Water Gap: "Perfume" and "Ode to a Conversation Stuck in Your Throat"
Del Water Gap has become one of my favorite projects to listen to over the past few months. Created by S. Holden Jaffe, the band has gone through several iterations, including a brief time with his now longtime friend Maggie Rogers. Jaffe's music always has an underlying melancholic feeling, but features rockier, guitar-driven instrumentation, creating a fantastic listening experience. His writing is great, and Unfortunately, his performance wasn't everything I dreamed, since quite a bit of the music was simply a background track, not live. He should've had a much more involved band, which would've made the show absolutely fantastic. 
Little Simz: "Gorilla" and "No Merci"
While I didn't get to stay throughout the entirety of Little Simz's set, I was blown away by what I did see. A simple performance overall, the British rapper still had a massive onstage presence. For the first twenty minutes or so, it was just her and the dancing silhouetted visuals on the screen behind her. Then, she ran off stage and two guitar players came on, and then the show really picked up. After asking the crowd if they were warmed up, she bounded back onstage and the energy emanating from her was insane. I've never heard anyone rap live like she does—instead of rapping occasionally over a backing track, she rapped constantly and with incredible dexterity over the words.