Dodge Bowl: Carroll vs. Westlake 
Head coach Riley Dodge faces off against his father at state championship
This Saturday, one of the most iconic moments in Carroll football history is set to take place: the Dodge Bowl.
After the Dragons' resounding 34-27 victory against Duncanville at the playoffs last weekend, the team is headed for the state championship for the tenth time ever.
"It's an unbelievable feeling," Dodge said. "We pushed through a lot of adversities this year to get to this point, so I'm super proud of our players and our coaches, just the entire program."
To add to the excitement, head football coach Riley Dodge will be playing against his dad, Todd Dodge's team, Austin Westlake. Because Carroll and Westlake are both in the 6A region, Dodge knew that playing against Westlake was a possibility. Originally, Westlake and Carroll were supposed to play against each other in their first game of the season, but it was cancelled due to the ongoing pandemic.
"It's crazy that all the stars aligned and it ended up happening that it was the last game of the year," he said. "The first game's really just an invitation, but this one we actually earned. I definitely prefer it this way."
Dodge played under his father during high school, when Todd Dodge coached for the Dragons, and they were, he says, a successful duo. The Dragons won the state title with Riley as quarterback and Todd Dodge as head coach in 2005. Riley credits his father for jumpstarting much of his football career.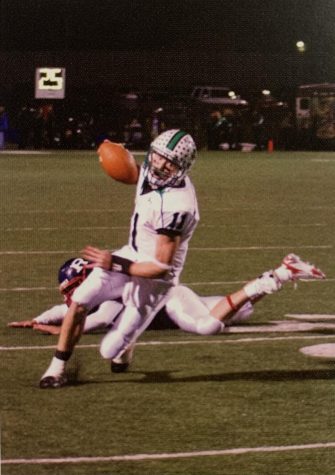 "I grew up being a coach's kid, getting to travel around the state of Texas and all the different coaching stops he had, and then finally getting the opportunity to play for my dad at Carroll was really a dream come true," he said. "When you live under the same roof as the guy, and he's in the profession you want to get into and has been as successful as he has, I'd be dumb not to listen and follow his example."
And Coach Dodge isn't ashamed to admit that he's taken more than a few pages from his dad's book. 
"He's a great dad, a great friend, and a great mentor, and the biggest thing I learned from him was how to treat people and how to really run a program," he said. "Some things have changed and I definitely have my own spin on things, but the foundation of our program has a lot to do with my dad and his coaching staff."
Nevertheless, Coach Dodge believes that his coaching style and experience at Carroll is unique to him.
"I am his son, but I'm my own person," he said. "I'm going to do what comes naturally to me. I think I'm more energetic on the field. At practice with his players, my dad's more subdued."
This, he says, will make for an interesting game. Both coaches know the other's strategies, approaches to coaching, and team members.
"
I am his son, but I'm my own person," he said. "I'm going to do what comes naturally to me. I think I'm more energetic on the field. At practice with his players, my dad's more subdued.
— Coach Riley Dodge
"It goes both ways in that both of our coaching staffs, both at Carroll and Westlake, know each other really well," he said. "We've all been friends for a long time so it's going to be interesting to see how things unravel. I know their offense and they know mine, so we'll see early on in the game how we chip away at it."
Right now, he and the program are confident in a Dragon win, which would be the ninth state victory for the team in school history.
"We're going into this with the expectation that we're going to win this football game," he says. "But we know we're playing a very good team, and we're going to have to play a really good game to get that outcome."
And Coach Dodge has some additional support; his mom, he says, will be cheering on the Dragons from the sidelines.
"I told my mom she better be cheering for me because I'm blood," he said. "That's kind of the joke we have."
Regardless of what happens this weekend, Dodge and the rest of the team are looking forward to a friendly competition.
"My dad and I talked on Sunday and wished each other good luck, and that was really the last conversation we had," said Dodge. "I think the ultimate goal every year is just to get to the state championship. And if that's against my dad or someone else, we're just excited to be here."