There is no D(efense) in the Big D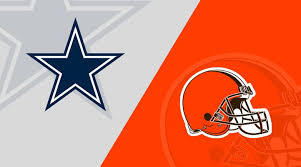 The Dallas Cowboys are coming off a brutal 49-38 loss to the Cleveland Browns. That puts them at a 1-3 record in the early 2020 NFL season. The new head coaching hire Mike McCarthy did not imagine to be sitting in third place in the NFC East. You would think that having a 1-3 record would mean that you have some catching up to do to win the division. Since the Cowboys are in the NFC LEAST they are a half-game back from first place which guarantees a home playoff game. With the Eagles (1-2-1) and the Washington Football team (1-3) ahead of them in the division. 
The Cowboys headed into the season with high expectations of that loaded Dallas offense that consists of Dak Prescott, Ezekiel Elliott, Amari Cooper, Michael Gallu, and new rookie addition, Ceedee Lamb. The offense has been nothing short of impressive… in the second half. The Dak Prescott-led offense has struggled to put up points in the first half. Dak Prescott may be leading the league in passing yards with 1690 yards through the first four contests but is it really that impressive? 
Every single game the Cowboys have had they have been trailing almost the whole game. That causes the Cowboys to not establish a run game because they have no choice but to throw the ball and hope for big plays. The Cowboys have been making remarkable comebacks but the deficits have just been too much too overcome. Despite not being able to put up first-half points,  that's not even close to the main problem with this organization. The clear problem has been the Cowboy defense. They have been allowing the third-most yards per game, along with allowing the most points in the league. 
The defense has been the worst in the league through four weeks and that is not the recipe to building a playoff-contending team. Jaylon Smith, their supposed all-pro linebacker, has been non-existent. Jaylon Smith isn't making any big plays and isn't even leading the team in tackles. Trevon Diggs who was a second-round draft pick who leads the team in tackles has been getting picked on by opposing teams. 
The inability to force turnovers was a huge problem last season which led to failure. That just carried over into this season with the Cowboy's inability to force turnovers to help out their all-star offense. 
With all of the Cowboys problems they still manage to be a half-game back in their division. So Cowboys fans it is not time to panic just yet.