A Legacy Remembered
To honor the memory of Sarah Lacy, her parking spot is donated to her brother
Sarah Lacy's tragic death in early 2020 "left some big shoes to fill" according to her friends and family. Sarah Lacy, a student involved in many programs but most intimately in theater, her life touched so many others, and many remember her fondly.
"She emitted such a positive aura, it was difficult not to constantly smile and have a jolly time around her. She was also fiercely loyal, honest, and creative. I think anyone could attest to that and that's what they should remember about her," Moritz Proell, senior, said.
Sarah made her mark on the school literally and figuratively. In honor of her impact, a student anonymously donated her painted parking spot to her brother, Zach Lacy, sophomore. The spot has been maintained by her friends since her loss and remains a solace for many.
"The parking spot was a place we had. During quarantine, a lot of us separately went and sat down and shared the space with her. Even though it's just a parking spot, it meant so much to her so it was a way for us all to connect with her," Zach Lacy said.
While the parking spot may only be left open for the next three years, many have made sure that her memory will last much longer.
"A scholarship was donated that will be awarded to a senior every year for college, which will give us another chance to talk about her," Senior High principal Mr. Shawn Duhon said. "We have enough money in this fund to recognize and remember Sarah for about 20 years. Her name will live on for a long time here at Carroll Senior High School."
About the Writer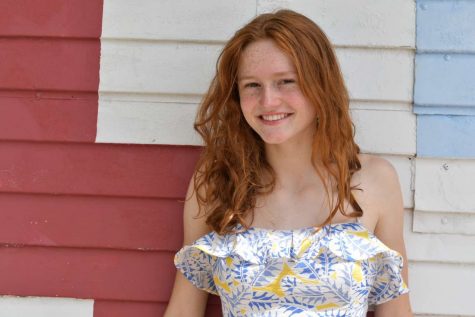 Lindsey Ryan, Yearbook Editor in Chief
My name is Lindsey Ryan and this year I'm the yearbook editor in chief. I've been on Dragon Media for a year but I'm really excited to learn even...