Going for the gold
Diver brings home three medals for Team USA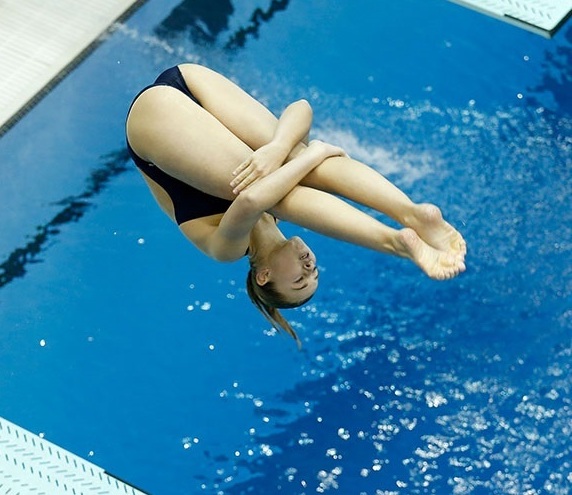 For junior Hailey Hernandez, the start of the new school year was marked in gold for the USA diving team.
At the end of August, Hernandez flew to Santiago, Chile to represent Team USA in the 2019 UANA Junior Pan-American Championships for diving. She competed exceptionally, racking up two silver medals in her individuals events of 3-meter and 1-meter springboard, and bringing home the gold in her 3-meter synchronized diving.
"It was really exciting to be able to compete alongside some of the best in the Americas and represent our country," Hernandez said. "My favorite part of the trip was being able to meet all different kinds of people and being immersed in the language."
This isn't Hernandez's first time representing America at an international meet. She's traveled to Canada, Spain and Ukraine with the team. Her most memorable competition as a member was the Diving World Cup in China in 2018, where she placed ninth.
"It was my first big senior international meet, and I wasn't really expecting to make it," said Hernandez. "I got to compete alongside Olympians, so that was really cool."
Hernandez has gone to many international meets, so she knows the other teams well. She is even friends with some of her top competitors. 
"It's definitely a tough relationship," Hernandez said. "But it's cool to track their progress and diving experience along with mine."
However, Hernandez has gone through some obstacles in her diving career. When she had to travel to Maryland to train with her synchronized diving partner, her coach wasn't able to be with her at the competition.
"I'd never actually trained with the coach in Maryland before," Hernandez said. "It was very unique getting to see a different coaching style. We worked well together, and it was lots of fun."
Hernandez credits her success in the championship and in her diving career to her coach.
"My coach, Jeff Bro, has put a lot of hard work and training into me, making sure I'm prepared mentally and physically," she said. "I've had to make lots of personal sacrifices and commitments."
These sacrifices include training around 25 hours a week and missing many school days. She generally has three different practices every day.
"Balancing school and diving has definitely been difficult, but I've had lots of resources from teachers who have been very accommodating." Hernandez said. "They've been able to keep me in the loop when I've been gone at competitions. It's been fairly easy to keep all my work up to date."
While Hernandez was successful in her earlier competition, the diving season back at home is just getting started. Hernandez dives for the school team, in which she's earned two state titles. In the short-term, she's hoping to become a four-time state champion.
For now, though, she's still focusing on her schoolwork and getting ready for college.
"I have not committed anywhere yet, but I'm taking some recruiting trips soon, and I have some schools lined up," she said. "Hopefully I'll have a decision by the end of this year."
Hernandez has achieved a lot in her diving career, but she is still making goals for herself and her future.
"I have local meets, regionals and then zones for my club team, and then I'm going to the Olympic trials in June," Hernandez said. "The Olympic games are definitely the ultimate goal."