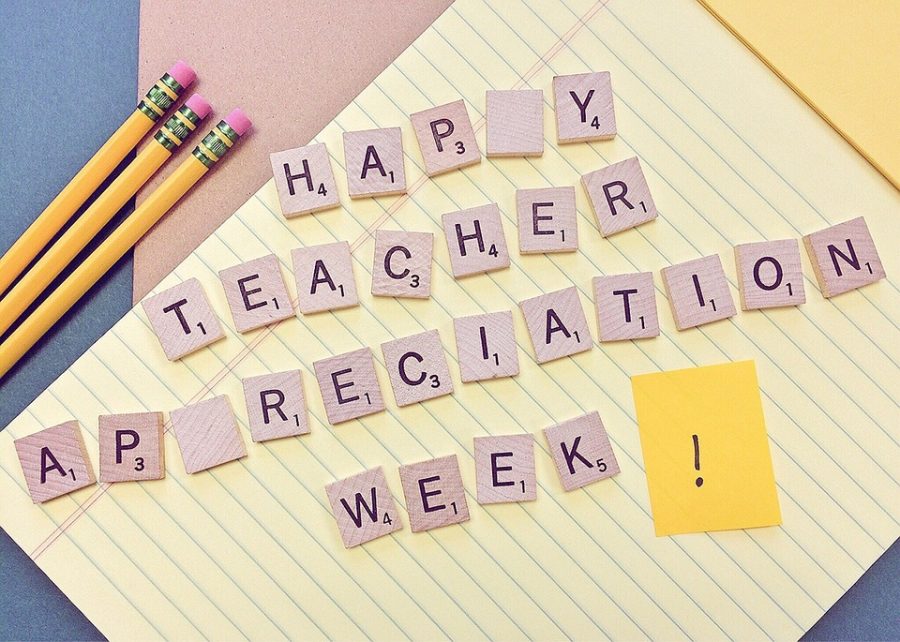 A teacher's touch
How teachers play one of the most important roles in growth
May 7, 2018
Last week's Teacher Appreciation Week has come and gone, but like Earth Day, Mother's Day and Veteran's Day, our appreciation of teachers shouldn't end when their week does. My life, like the lives of many of my peers, has been immeasurably and irrevocably changed by the touch of many teachers. Almost every teacher I've been lucky enough to have has left an impact on my life and my character that won't soon be forgotten.
My first grade teacher, Mrs. Annechino, sat with me before school every single day and went over the day's schedule with me to help alleviate my anxiety and lower my chances of having a panic attack during the day.
In second grade, my teacher, Ms. deManincor, gave me hugs and chocolate "kisses" when I dropped my snow globe and broke it on show and tell day.
Mrs. Johnson, my fourth grade teacher, gave up countless lunches to sit with me in her classroom to eat and go over the concept of multiplication tables, which I just wasn't grasping. Over the summer, she took me out for ice cream on my birthday so we could celebrate and catch up. The next year, when I visited her classroom to say hi and tell her that I was moving, she teared up and we ate breakfast together once a month until I left.
During my first few weeks in Texas, my fifth grade teacher, Mrs. Bonnette, let me switch math classes for a day in order to avoid a situation that she knew had been upsetting me. In sixth grade, my english teacher, Mrs. Pelt, told my entire class that she kept her phone on at night just in case a student ever needed her.
My seventh and eighth grade math teacher, Mrs. Ross, gave me extra worksheets to do so I could bump my 89 to a 90 because she had seen how hard I worked in her class all year.
In high school, teachers have gone above and beyond their job descriptions for me more times than I can count. I have had teachers comfort me when I've been in tears, celebrate my victories with me, mourn my losses with me, help me improve at the things I love, tell me about their lives, listen to stories about my life, and generally put in effort to shape me into the person that I am. Recently, I have had multiple teachers seriously tell me that they would lay down their lives for their students without a second thought. These teachers have families and lives of their own to think of, but they still have an unwavering dedication to their students.
To me, teachers are the closest thing we have to real-life superheroes. They are the strongest, bravest, most loving, most selfless, most patient people out there, and I don't know a single classmate of mine that would be the person that they are today if it weren't for the impact of every teacher they have had.