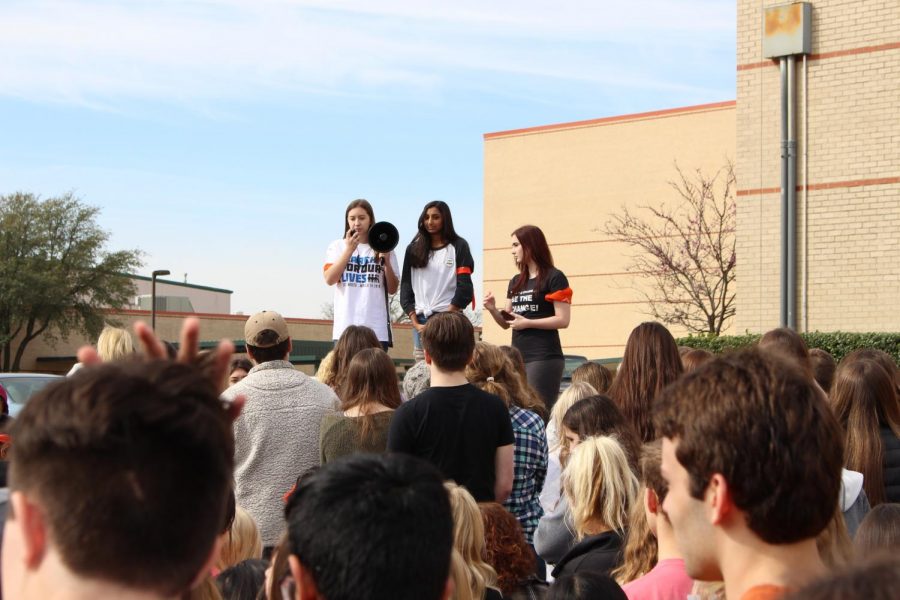 Taking a stand
Student walkout spurs discussions
March 9, 2018
Yesterday, approximately 650 students across four Carroll campuses walked out of class at 10 a.m. in order to memorialize the 17 victims of the shooting at Marjory Stoneman Douglas High School and to raise awareness for the need for safety in schools.
Two juniors, Anika Shah and Alanna Miller, worked with the school administrators and the school board to organize a safe and successful event.
"When this happened, it just opened my eyes and sort of put things into perspective to make me realize how big of an issue it actually is," Shah said. "It's a school. If it happened there, it could happen here, it could happen anywhere."
Miller also believes that school shootings affect students more than parents and administrators realize.
"We've grown up in a school environment that's been shaped by school shootings," Miller said. "Hopefully, this time it's different and we start listening to the people that school shootings most affect."
"
This isn't just a grand finale. It's the start of a whole movement."
— Alanna Miller
Some members of the choir participated and sang "The Lord Bless You and Keep You" to honor the 17 lives lost.
"I believe that having the choir there and singing this beautiful song brought about an air of peace and calm and subdued any potential conflict, disillusionment or misunderstanding that may have come about from people at the event," senior and choir member Emmy Pratt said.
An important part of the school safety conversation, according to one senior, is learning how to listen to both sides, especially as we do not know all the answers.
"If we don't believe in freedom of expression for people we disagree with, we don't believe in it at all," senior Ethan Koh said. "I implore, rather than assert, the erroneous idea that this walkout was about gun rights, that people listen to what we are saying. This was a memorial for the 17 who lost their lives in a tragedy. Yes, guns were mentioned; however, infringement of constitutional rights was not even suggested."
The senior high administration was supportive of the students who chose to walk out, and while the district didn't sponsor the event, they took precautions to ensure that students who did choose to walk out would be safe.
"I think the kids deserve a voice," Principal Shawn Duhon said. "This is an opportunity for kids on our campuses to be heard. Issuing consequences, I think, just compounds the problem. It shows kids that we don't care."
Like the administration, many teachers were supportive of students' rights to exercise their constitutional rights.
"I actually was surprised at the amount of students who walked out," AP and on-level U.S. History teacher Rebecca Colvin said. "I mean, there were a lot more than I thought, which, honestly, I thought it was pretty cool to see kids exercise their constitutional rights."
AP/GT and on-level English III teacher Sarah Thomas had a similar opinion.
"When something as traumatic as school shootings continue to occur, over and over again, it's really inspiring to me when young people are willing to stand up and ban together for a good cause," Thomas said. "Even just memorializing those students who are no longer with us, I'm very touched and I hope that the students move forward from this, not just as an excuse to get out of the school for 17 minutes, but to actually really think about the safety and measures that could be taken in the future with gun laws."
Among parents in the community, the responses were mixed. Many took to social media to express their concerns with the event.
"If the kids want to organize some walk or protest they are free to do so but not on school property on school time," one parent in the "Moms of Southlake" Facebook page said. "I disagree with the district allowing this. It's very distracting to those who are there to attend class."
Other parents commended students on their courage and willingness to stand up for what they believe in.
"The students are scared," a parent posted. "They need to feel heard right now. Hopefully they'll be heard. I'm proud of them."
While many students were excited to exercise their First Amendment rights, others disagreed slightly with the message and the way that it may have been delivered.
"It says that it was an honor to the students who died, and I think that's great, but it was about gun control," a senior student, who chose to remain anonymous, said. "And that's fine, I just personally don't agree with that agenda. It's nothing to say that you can't have that idea, and I'm not going to say that it's wrong — there's definitely a conversation to be had. For both sides, let's stop telling the other side that they're wrong, let's have a conversation about what kind of compromise we can make."
While the event did create some differing opinions, the organizers are happy with the end results and how much media attention from CBS Dallas, The Dallas Morning News, and The Fort Worth Star-Telegram they were able to garner.
"We're extremely proud of our student body right now," Shah said. "I think we had a really great turnout and we're just really happy with how it went. This is all to honor the 17 lives lost, and we have to remember to keep this conversation going. We can't forget what's happening here, and students need to get involved."