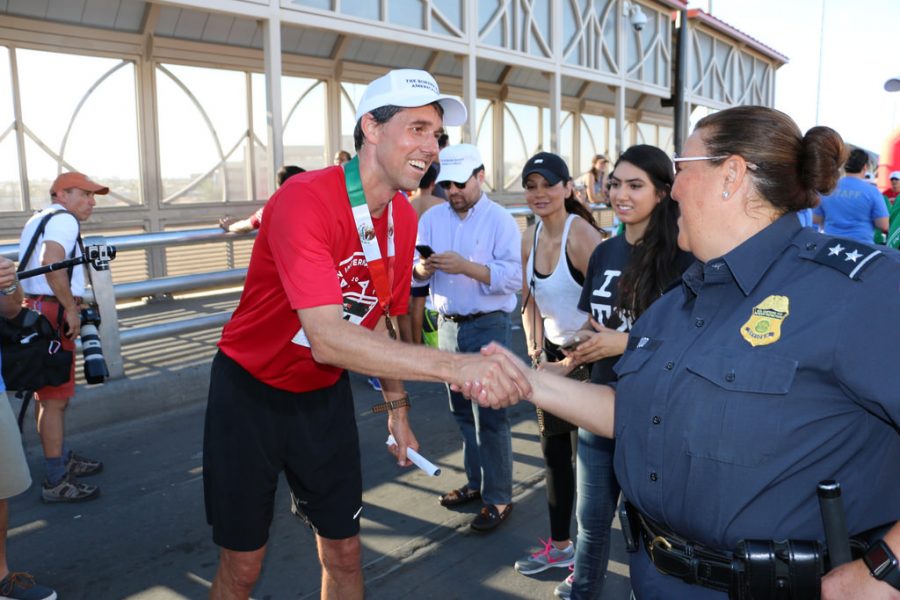 Turning Texas purple
How one long shot Democratic candidate is putting Texas back into competition
March 6, 2018
Standing in front of a standing-room-only crowd packed into a middle school cafeteria early on a rainy Saturday morning, Beto O'Rourke starts out his second town hall meeting of the day by describing two postcards that had been handed to him on his way in.
"These are hand-drawn postcards," O'Rourke said. "One of them says 'take time from your busy schedule: vote for Beto' and there's a toucan with a hat. This one says 'vote for Beto O'Rourke: early voting Feb. 20 to March 2' and there are two iguanas playing a guitar."
"
And although that sounds like a tall order for one man and his hand-drawn postcards, O'Rourke has faith in his supporters."
— Proksch
This simple act sums up O'Rourke's campaign. A fourth generation Texan from El Paso, O'Rourke is running a grassroots campaign for Senate. He is personally visiting every county in Texas – all 254. He logs all of his miles to every corner of Texas in a car, with campaign aides sitting in the passenger seat hosting live Facebook videos. He spends the precious little time that he's not on the road out with his daughter, helping her sell Girl Scout Cookies.
"Some would tell us that the way that we're running this campaign, in middle school cafeterias in Roanoke, with hand-drawn postcards with iguanas playing guitars, with rock and roll and Girl Scout Cookies, is no way to run a campaign," O'Rourke said. "But we are going to go everywhere, and listen to everyone, and it doesn't matter – no me importa – if you are Republican, or Democrat, or Independent, have never voted, aren't going to vote in this election, cannot vote for whatever reason: you are important to me and I'm going to listen to you and fight for you."
O'Rourke doesn't take any money from any PACs, special interest groups or corporations. Every single one of the 2.2 million dollars Beto raised in the first 45 days of 2018 was donated by real people who want real change.
"I want you to know that whether it is a defense fund, whether it is the NRA, the pharmaceutical companies, the telecoms, the ISPs, those that have that concentration of wealth and power and privilege at this critical moment: my door is not open to them," O'Rourke said. "This is not about party, or ideology, or even just any one election. This is about people."
Despite all of the unconventional things O'Rourke does, and the decidedly nontraditional ways he has chosen to run his campaign, he has a good chance at beating Ted Cruz for one of Texas' seats in the Senate. Tonight, O'Rourke won the Texas Democratic primary and will now be on the campaign trail for the next nine months, fighting to turn a state that has been red for nearly thirty years blue again. And although that sounds like a tall order for one man and his hand-drawn postcards, O'Rourke has faith in his supporters.
"I'm hopeful because I see all of you, nine months before this election, already getting after it, getting out, standing up," O'Rourke said. "I know, I feel, that we're going to win this."