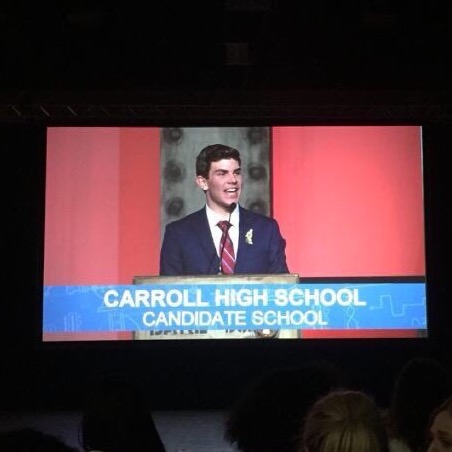 Shining a light on human trafficking
Student Council member's platform takes the national stage
September 27, 2017
Not every high school student can say that they're actively making a difference in their community. Junior Jack Tucker, however, isn't like every other high school student.
Last spring, Carroll High School's student council ran for the state office of parliamentarian during April's statewide conference in Arlington, with Tucker as their student representative. Carroll chose a platform that many other schools wouldn't even consider a possibility: anti human trafficking.
"Not a lot of kids are brave enough to talk about something like sex trafficking," Tucker said.
"
Jack is a prime example of the ripple effect
— Sarah Millhorn
Embracing a touchy subject paid off in the long run and Carroll won the election. To take on such a complex platform, Carroll partnered with Treasured Vessels, an organization that is working to provide a safe space for underage girls who escape human trafficking in North Texas.
"This partnership allowed our council to learn more about this problem of modern day slavery, and as a group, we decided to promote this topic by using it as our platform as we ran for the state office of parliamentarian," Sarah Millhorn, Carroll High School's student council advisor, said.
This collaboration brings attention to the organization as well as educates Carroll students on the gravity of human trafficking.
"Student council is pioneering a movement of peers educating peers," Alicia Bush, founder of Treasured Vessels, said. "We have been thoroughly impressed by the passion and dedication presented by these students. We are honored to have such talented and influential teens coming alongside us to fight this fight against human trafficking in our state."
In Texas, Treasured Vessels has been endorsed as a state organization, so this year, councils all across the state will be organizing projects that will benefit Treasured Vessels and shine a light on the seldom talked-about issue of human trafficking.
"By putting that platform out there, in front of 5,000 student council delegates from across the state, we really started a huge ripple effect," Tucker said.
Now, Tucker's role will take him all over the state and country, representing Carroll and Texas at statewide and nationwide events. Already, Tucker has been working to educate other student councils around the state about human trafficking and how it affects our community.
"Jack is a prime example of the ripple effect – how one person's words and actions can have a profound and unending impact on the world around them," Millhorn said.
Just this summer, Tucker has represented both his state and school, traveling to Fredericksburg, Boston and New Hampshire for national conferences and Austin for the state's first board meeting, where Carroll's platform of human trafficking was chosen as the state service project for this school year.
"That's pretty exciting, to see that our school's impact is going to be all over the state," Tucker said.
It's only been a few months since Carroll's election, but Tucker is already making the most of his time as a state officer.
"Not too many people can say they're doing what I'm doing," Tucker said. "It's just a really cool opportunity, and I'm grateful for it. I'm enjoying every second of it."