Eight Japanese exchange students visited the senior high on Nov. 3 as part of the Sister Cities program. This program involves Southlake, Tome City, and Wuzhong District, a friendship city, in Suzhou, China. The program is sponsored through Southlake, and is a diplomatic partnership intended to strengthen cultural and economic relations. Nearly 30 visitors travel between places annually. 
The students were led by the Carroll Green Jackets, and participated in a multitude of activities throughout the day. They started off with an "American Jazz" session performed by the jazz band, directed by Mr. David Lown. After that, they attended the "Senior Switch" and "Black Out" pep rally, which was a highlight of the trip for some of the students, alongside a luncheon with food provided by Feedstore BBQ. 
"I think going to the pep rally, football game, and eating BBQ were probably the most significant things we did because they are so Texan and it's unlike anything [they] could experience in Japan," host family member junior Allison Bedwell said. 
One major benefit that comes from the Sister Cities program is the education and cultural exchanges that are able to take place. The Japanese students stayed with different Southlake host families, and both groups learned something new.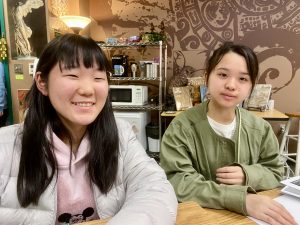 "It was super interesting for me to learn about differences between life in Japan compared to here. For example, birthday parties aren't a big celebration in Japan," host family member junior Katah Gunter said. 
The night of Nov. 4 was the "White-Out" football game as well, which the students attended and had an on-field photo-op during the game. 
"The student who stayed with me, Koharu, said her favorite part of the trip was going to the Dragon football game. She thought the game was really interesting and she also enjoyed the halftime performance," Gunter said.
The students sat with their host families during the game as well.
"It was such a once in a lifetime experience, and I'm so glad I did it," host family member junior Sanvi Kishinchandani said.