On Saturday afternoon, colorful outfits and an aroma of fresh Indian food filled the streets of Town Square. Dancers performed on the center stage and Bollywood music boomed through the speakers.
Since 2018, Diwali Fest, run by the Southlake Foundation, has been one of the biggest cultural events that happens in Southlake. Celebrated by Hindus worldwide, Diwali (also known as Deepavali), represents the victory of light over darkness and is celebrated by lighting diyas and fireworks and coming together as a community. 
Southlake's celebration includes a grand fireworks display, cultural performances, ethnic food stalls, henna tattooing, and traditional clothing and product shops. Diwali Fest draws hundreds every year and many look forward to the experience. School board member Eric Lannen was one of them.
"I come for the food for one," Lannen said. "But overall, everything is just amazing. I come to see the dances and other events they keep."
Inside look: Bollywood Dance Club
One of the dances included Southlake Carroll's Bollywood dance club. They performed "Dholida" by Sanjay Leela Bhansali, "Thumkeshwari" by Sachin Jigar and Amitabh Bhattacharya, and "Sweety Tera Drama" by Pawni A. Pandey, and Shraddha Pandit.
The Bollywood Dance Club practices every Monday and the three directors make sure every one of their dancers learns every step to perfection to put on the best show possible.
"We were on a huge time crunch so we had to wrap in as many practices as we could to execute our dance for Diwali Fest," director and senior Anvitha Sharma said. "But overall, I'm really happy about how our hard work paid off."
The six dancers finally performed at 7 p.m. while it was a little dewy out. Dancer and sophomore Riya Shah comes forward with her experience. 
"Dancing on stage with Bollywood Dance Club was a thrilling experience," dancer Riya Shah said. "Along with learning Bollywood dance, we wore vibrant clothing, and performed in front of an audience while celebrating Indian culture and having tons of fun."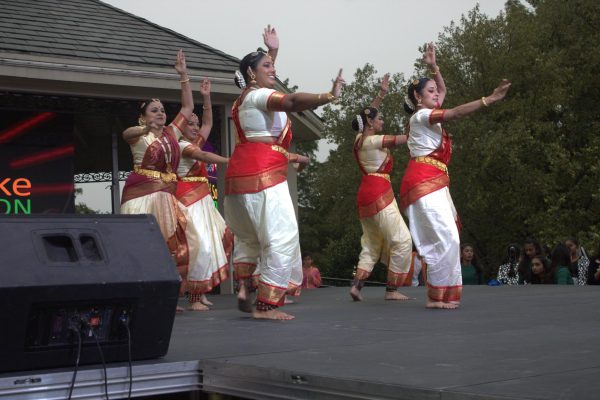 Inside look: Fashion 
Another event that took place at Diwali Fest was the fashion show. The fashion show included seniors who gracefully walked down the runway as they showed off their cultural Indian outfits. 
Senior and designer Rathi Venkatesan has been looking forward to this event all year.
"This project was started in August and since I knew I was going to be performing, I was hoping that Diwali Fest would come as fast as possible," Venkatesan said. 
This fashion show was quite different than the previous ones held. Venkatesan collaborated with Ambreen Khan Designs and she wanted to use lightly used sarees and wanted to make beautiful Indian cultural outfits with them. She made Indian clothing called Lenghas, for the girls, and Dhotis, for the guys. 
"I had this huge donation box outside my house so that people could donate their used sarees," Venkatesan said. 
Before the show, all the seniors got ready with the help of their parents and did a practice runway.
Inside look: Club involvement
Many Carroll clubs had booths at the festival, including UNICEF Club and Dragon Tutoring. UNICEF sold diyas (also known as deepas) that children could paint. Diyas are traditional Indian lamps that are lit every Diwali to represent light triumphing over darkness.
"All proceeds will go to UNICEF which will donate the money to the Gaza Strip to provide clean water, food, and medical aid to families," sophomore and President Nihitha Veerapali said.
Dragon Tutoring, run by Carroll students, also offered mehndi/henna done by students. This temporary, plant-based tattoo is common in South Asia, and long lines of both kids and adults formed.
"I love doing mehndi in general, and being able to do it in support of a real cause was really fun," sophomore Eela Amin, one of the volunteers doing the mehndi, said. "Seeing the customers' reactions to it was incredible and really validating."
Although the bad weather forced the foundation to cancel the drone light show, the fireworks show went on, lighting up the skies.  
"Diwali Fest is the biggest event in Southlake all year," Mayor John Huffman said. "I'm really proud of how it turned out this year."