Student Organization Spotlight: Dragons Give Back Foundation
New group aids to wipe out kids cancer 
At the homecoming pep rally, principal Ryan Wilson and head football coach Riley Dodge shaved two students' hair as the cheering student body looked on. What for? For cancer relief of course.
Dragon's Give Back Foundation, led by seniors Murtaza Mir, Zach Lacy, Charlie Parkes, Varina Dang and Vihan Yerubandi, organized the aptly named "Fresh Fade Friday" event, raising nearly $3000 in a single pep rally for Wipe Out Kids Cancer (WOKC). Emboldened by its success, the organization shows no signs of slowing down.
"We are currently planning a colored powder fight at the CSHS Campus, which is in support of Wipe Out Kids Cancer," founder and president Murtaza Mir said. "Each color will correspond with different color cancer ribbons. With this being our first community-wide event, we hope to bring some of the charitable outrageousness to the greater Southlake community. It will take place the weekend of October 15."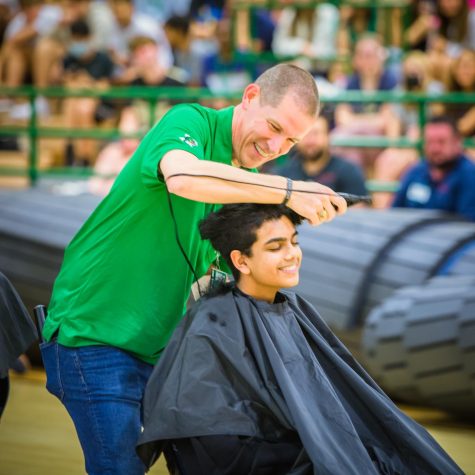 Despite being less than one month old, the idea of "outrageous charity", per the organization's website, has gained traction through Mir and his team's planning with the student council and school officials such as Principal Wilson, the sponsor of the DGB Foundation's club.
"We want this annual community service project to become a new tradition here at Carroll, establishing a culture of giving back for years to come," Mir said.  "How we do it is simple: each year we will choose a local NPO to be our beneficiary for the year. To support said beneficiary, throughout the year we will have various outrageous fundraiser events and activities that all build up to DGB Week, a week that'll showcase the epitome of outrageous charity and will occur closer to the end of the school year."
WOKC, a Dallas-based pediatric cancer organization specializing in funding research and providing relief for children and families impacted by cancer, has chosen to work with high school students for the month of September, Pediatric Awareness month, targeting Allen High School, Highland Park High School, and CSHS and CHS specifically with a fundraising competition between the three districts. So far, the endeavors have been successful. 
"Working with high schoolers is valuable because, in the not-too-distant future, students will be graduating college, getting jobs and becoming an adult in society," WOKC executive director Kris Cumnock said. "Hopefully, this awareness we're creating will inspire students to continue to be involved in charity well into adulthood."
With help from the student council, Mir and his team have high hopes for winning the WOKC competition. However, the organization holds even bigger aspirations in terms of its impact.
"We hope to get the entire Southlake community involved and garner their help in raising money for WOKC throughout the school year," Mir said. "We really hope this becomes a fundamental part of the Carroll experience. Everyone wants to leave something positive behind, and I think the DGB Foundation is an excellent way to do that. We're raising money for important causes, and having a whole lot of fun while we're at it."