Lady Dragon Soccer receives state championship rings
Following their practice on Tuesday, members of the varsity Lady Dragon Soccer team lined up to receive their state championship ring from the 2022 spring season. The team won the title by defeating Rockwall 4-0 in the state finals back in April.
"It's the best feeling ever because my dream was just to have a championship ring," Maddie Khan (12) said. "It's a physical representation of all the hard work that we have done this past year and just accomplishing the greatest thing in 6A. I love it."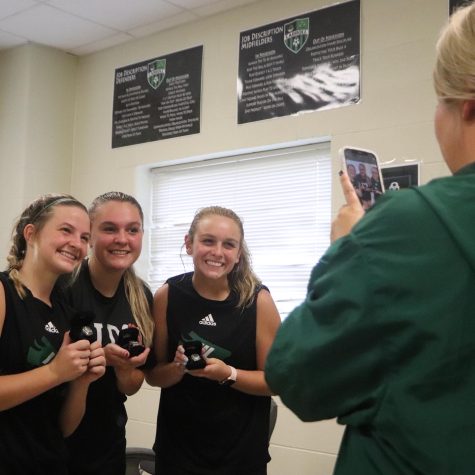 This makes the third state championship for the program as they previously won the title in 2019 and 2008.  Carroll went 23-1-4 in the 2022 season and defeated Allen, Marcus and Westlake in playoff games on their road to the championship. Receiving their rings was a final celebration of a phenomenal season for LDS.
"It feels great getting my ring,"  Kenzi Tufts (11) said. "My sister also won in 2019, so I know how she felt whenever she received her ring. To finally have my own is amazing."