COVID's Resurgence disrupts CISD students' lives 
Starting 2022 with a solemn turn of events, Covid-19 is resurfacing in the form of the Omicron Variant. In collaboration with the cold season, the previously dwindling virus has reinvigorated and is now further impacting schools across the country.
The direct effect on CISD schools is undeniable, but in an unexpected way. Despite the frenzy over increasing infection rates and school closures, as of Jan. 20, Carroll Senior High School only has 37 students and 3 staff members out. This is not even a 5% absence rate. 
"What I've noticed most about the intensity of the pandemic in the past few weeks is the community's concern," said Ryan Wilson, principal of Carroll Senior High. 
 It's not the physical changes that plague Southlake most, but the mental ones. 
"There is definitely a spike in numbers, but based on what they're hearing, the uninformed community member assumes triple-digit numbers," Wilson said.  
COVID panic has spread across CISD more than COVID itself, mainly because of neighboring school districts' closures. As of Jan. 20, Colleyville, Westlake, Mansfield, Northwest ISD, and dozens of other districts have all shut down for a period of time in an attempt to mitigate the spread of COVID. 
A closure like that isn't imminent for Southlake, Wilson said, though, "…there's significant concern for 10% [absence rate]."
Previous precautionary measures, like in-school mask mandates and optional Zoom classes, are unlikely to return, according to Wilson. Masks have been a political issue recently, and zoom classes, as was made evident to staff last year, lessens the instructional experience for in-person and online students alike.
"Another big driver for [not implementing Zoom classes] is money," Wilson said. "The Texas Education Agency isn't paying us for students at home, whereas last year they paid us an attendance daily rate [for online students] so we were still generating revenue."
Even if the district wanted to reimplement Zoom classes, the TEA's refusal to reimburse online students makes it an infeasible prospect.
Extracurricular activities will most likely continue, though some concerns are sprouting. 
"I don't see [extra-curricular travel] ceasing because thus far there just hasn't been enough notable evidence to justify [a postponement]," Wilson said. "Though I'm slow to say that because just last Friday, we had a lot of kids from a lot of schools come to the Region Band experience. From those groups, there were a good many kids who came up positive for COVID."
Sporting events and other activities will likely continue as long as infection rates among those involved don't skyrocket.
The aforementioned mental turmoil has carried over to school staff as well. Nurse Karen Flexer, the district head nurse, attributes new stress to the surge. 
"Honestly, it affects us [nurses] because we like the interaction with the kids," she said. "Also, the paperwork is a lot, and sometimes we have to work late, depending on the number of cases." 
Wilson posits a similar burden for himself and the teachers he oversees.
"It's been hard to keep teachers motivated. In the midst of this [COVID induced chaos], we have teachers themselves who are out with COVID, and there are not enough substitutes…Now you're asking teachers to give up planning time to cover someone else's class," Wilson said.  
Despite there being an occasional $25-30/per hour wage for doing this, it's far from ideal and compiles stress on top of teachers' already rigorous schedules.
If a student is confirmed to be COVID positive, health officials mandate both the person and their peers who have had contact with them to quarantine for a designated amount of time. Because of the complexity that these precautions entail, nurses are further burdened.
"I have another nurse in my clinic… to support the senior high. She's not new though, she's been practicing for a long time," Flexer said.
To further assist with the minutiae of COVID prevention, Wilson has assigned the additional job title of "Coordinator of Instruction" to Mrs. Stephanie Fuller. She is responsible for the communication of COVID-related information with parents and students affected by the disease.
"
"Omicron, with its extraordinary, unprecedented degree of efficiency of transmissibility, will ultimately find just about everybody," Dr. Fauci declared recently. Because of this, Omicron spreads like wildfire through crowded places, like schools."
— Dr. Anthony Fauci
Students' contraction of Omicron should not be an object of blame, but a cue for precaution according to Dr. Anthony Fauci, the Chief Medical Advisor to the President of the United States
"Omicron, with its extraordinary, unprecedented degree of efficiency of transmissibility, will ultimately find just about everybody," Dr. Fauci declared recently. Because of this, Omicron spreads like wildfire through crowded places, like schools.
As school personnel scrambles to deal with the reemergence, often to limited and circumstantial success, students take the brunt of the surge. 
"Schoolwork keeps me busy, but I'm constantly bored. My sickness makes it worse because I'm always drowsy and tired," said Junior Aaryana Sharma, who recently tested positive for COVID and returned to school on Jan. 20 after a quarantine period.
Jayden Planz, a sophomore soccer player, was out for 10 days with COVID. "I missed two tournaments [because of my quarantine], I felt like I let my team down." The virus' resurgence has inhibited all facets of school life, and, according to Planz, even his relationship with his team.
Communal health ebbs and flows with the whim of nature, as evidenced by the unpredicted intensity of COVID-19's untimely, albeit probably short-lived, resurgence. While better than early 2020, COVID-19 is giving CISD a taste of its persistent presence and enduring effect on the world at large.
About the Contributor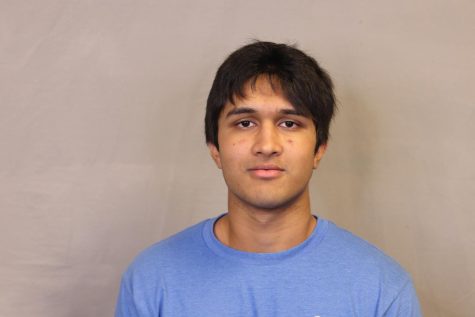 Sahat Sopirala, News Editor
Sahat Sopirala is a senior at Carroll Senior High School and a second-year member of Dragon Media. He enjoys teaching kids and has a non-profit tutoring...