Dragon Yearbook wins Crown Award from Columbia Scholastic Press
On Wednesday, the 2021 CSHS/CHS Dragon yearbook was named a finalist by the Columbia Scholastic Press Association for its prestigious Crown Award. The Crown Awards honor top student publications chosen from CSPA's members. Crowns are selected for overall excellence as shown by the publication's design, photography, concept, coverage and writing. A total of 817 publications were eligible for judging and The Dragon was one of only 61 yearbooks to be chosen.
Crown Finalists are actual winners, not nominees. Some will be named as Gold Crowns; the rest are Silver Crowns. Final results will be announced and presented at the CSPA ceremonies in New York in March 2022.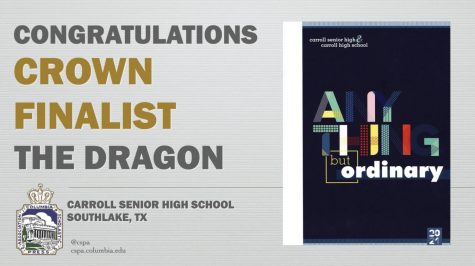 The Dragon is advised by Mrs. Natalie Brown and was under the leadership of editor in chief Lindsey Ryan along with section editors Maya Tewari, Afton Fay, Darya Tadlaoui, Breanna Davenport, John Marvel, Peyton Brush and Lauren Pich. These editors managed a staff of writers and photographers, the majority of which were online students for much of the 2020-21 school year.
"I'm lucky to have had the chance to go through such a great yearbook program," said Ryan. "I'm so proud of how the book turned out and happy that it's getting so much recognition."
The 392-page yearbook includes grades 9-12 and was created completely by Dragon Media students. The 2021 edition entitled "Anything But Ordinary" also included QR codes that linked to the video productions of KDGN students advised by Mrs. Jen Randall.
"It was an unusual year from beginning to end and the staff knew they'd have to work incredibly hard to get the yearbook out," said Brown. "Despite many, many challenges, they never faltered and instead created something incredibly inclusive and memorable for their community."