Outdoor Club
New group reaches the summit
Hang on for a minute...we're trying to find some more stories you might like.
Today, if teens had the choice of going outdoors or playing video games, it seems like most would choose to play video games. Senior Naysan Sahba, however, would choose going outdoors every time.
Because of this passion, Sahba decided to create the new Outdoor Club. Some of the activities that the club will enjoy include rock climbing, kayaking, paddleboarding, hiking, camping, and other outdoor activities.
"I just have a feeling like lots of other people would enjoy it, they just don't have the access to it," Sahba said.
Sahba's goal is to make sure everyone enjoys their time outdoors and that they go on trips that are fun for everyone. Some ideas he has for trips include weekend excursions to Lake Whitney, Arkansas, West Texas and Mineral Wells for rock climbing, kayaking, paddleboarding, hiking, camping and backpacking.
"I think it's important to make sure that we are planning these trips as a team," Sahba said.
The group will mostly go on short trips during the weekends and on school breaks; the members of outdoor club can also go to the local Summit Climbing Gym and enjoy rock climbing, an increasingly popular sport. Some students choose to rock climb because they feel it is a good alternative to a traditional gym.
"It is a great alternative to working out, it's like solving a puzzle while getting stronger," said senior Desi West, a member of Summit.
The club is sponsored by forensics teacher Mr. Matt Colvin.
"Oh, there is a teacher who is passionate about the outdoors," Sahba said about Colvin.
Colvin has always enjoyed the outdoors and loves to share his passion with everyone he knows.
"I love the outdoors and I just think for me it's where I get peace and balance and I love trying to get other people outdoors too," Colvin said. "Plus there are other people in Outdoor Club that love the outdoors that I get to learn from."
Sahba is passionate about all outdoor activities and would love to share that love with other students. The outdoor community is warm and inviting so don't be scared to join. If you are up for adventure and trying some new activities, Outdoor Club is for you.     

About the Writer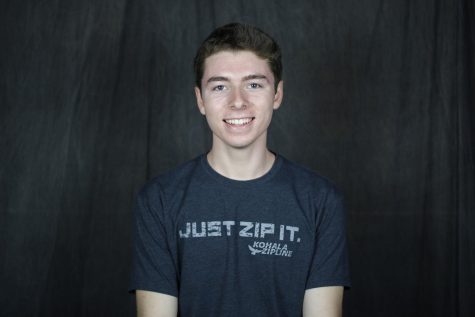 Carson Gleim, Staff Writer
Carson Gleim is a senior at Carroll Senior High School and this is his first year as a member of Dragon Media. He plans to go to college after graduating...