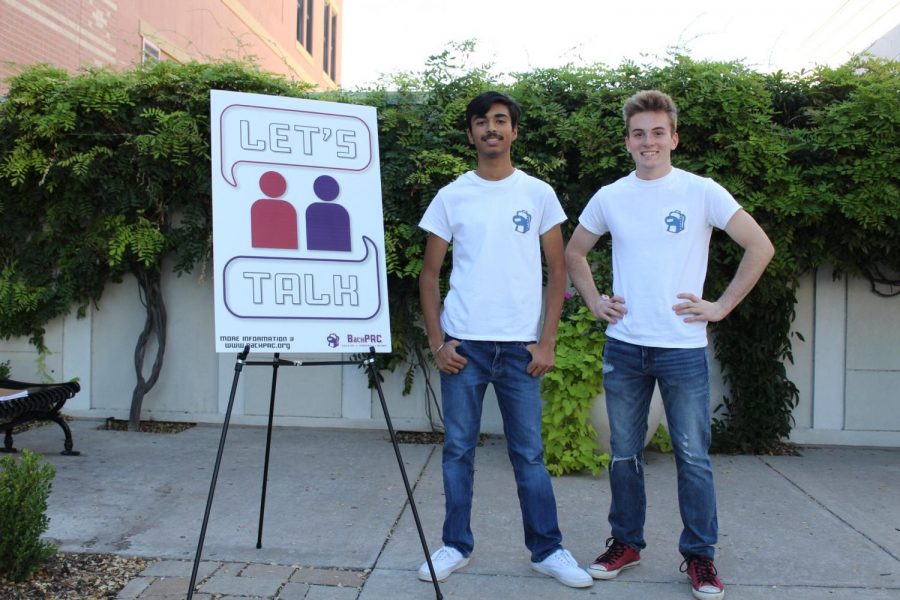 PACing a punch
What prompted two juniors to bring political action to their peers
October 19, 2017
If you ask juniors Cameron Waltz and Sahaj Singh what was running through their heads when they decided to found BackPAC, their new organization, they'll quickly reply: Education. Engagement. Reform.
Over the summer, Waltz and Singh were working with banks and city officials to start their PAC- political action committee.
"A political action committee is basically an organization that takes money and puts it into elections," Singh explained. "Usually political action committees are created for huge politicians, like Clinton or Trump, where they get billions of dollars of money from private companies in order to fund their election."
However, BackPAC isn't like every other political action committee.
"What makes ours special," Waltz added, "is that we're not at all linked with any candidate or political organization, it's just ourselves. This allows us to have whatever message, whatever advocacy, whatever direction we want."
Once they had founded their organization, Waltz and Singh decided to focus on three facets of the democratic process: civil education, civil engagement, and reform.
"In order to have a good democratic process, the people need to know about what's happening right now," Singh said. "Our goal when it comes to education is to increase civil education for the population."
Once the public is educated about the democratic process, the next step is to encourage engagement throughout the public.
"Civic engagement is incredibly important. Apathy is a huge issue when it comes to the democratic process because, since the last election, many people just don't believe in the way democracy works in the United States," Singh said.
At our school, they're looking to promote civic engagement by making it easy for seniors to register to vote.
"Coming up soon, in November, are the first registration dates for local and county elections," Waltz said. "Our biggest project and most exciting for the school is that we want to get a table out there in the cafeteria so that people can just walk up and register to be a voter and to get mail-in ballots so that they can vote."
Finally, Singh and Waltz want to reform how students think about how they can get involved in the democratic process.
"As for reform, we're look at what we, as students, can do to fix and change the world around us," Singh said.
One way that the two are enacting change among the students of Carroll is with their new club, Little America.
"Our major goal is discourse," Waltz said. "All we want to do is have an exchange of opinions, thoughts and ideas in a civil manner that will allow people to learn from each other."
Through the club, Waltz and Singh also want to pass the leadership on to younger students.
"The people who attend that club – younger students – are the ones who are going to lead in the future," Singh said. "Every grassroots movement begins with a group of dedicated people. We think that this club is the avenue to get students within our school to be incorporated into larger projects and goals that we're trying to accomplish."
Barbara Milhizer, who teaches AP English III in American Studies (AMSTUD) and AP English IV, is the advisor of the club. She is also looking forward to how the club will create open dialogue among students.
"I'd like to see people commit to being informed and open-minded," Milhizer said. "So much polarization is manufactured, and there is a great deal of common ground that is overlooked in favor of tribal division."
For the future, Waltz and Singh have big plans for the growth of the organization.
"In the long term, we envision a national organization which has a central bank for funding, where we receive a lot of donations so that anyone in the United States who has a project or idea that they want to implement that will help democracy has access to funding, has access to resources, legal help, and people in order to help them accomplish that project," Singh said. "This is about connecting the average person with the political process."