The Dazed and Blazed Craze
The Wiz Khalifa Concert 2018
Hang on for a minute...we're trying to find some more stories you might like.
On August 26, Wiz Khalifa's Dazed and Blazed Tour came to Dallas. Fellow artists Rae Sremmurd, Lil Skies, and O.T. Genesis also came to the Dos Equis Pavillion to perform their show in Dallas.
When the clock hit 6 the show began when O.T Genesis came out to perform for the crowd while thousands continued to pile into the venue. While he did a good job, the case with most openers is that a majority of people do not know their music so many people in the crowd are just listening or doing their own thing. At most concerts, the artists are in order from least to most popular so that audience members can choose to come early and see the smaller artists or show up later in the concert to only the more popular artists.
Next up was Lil Skies. More of the crowd knew his music so many fans were singing along with him while he performed his set. He played his hit songs "Welcome to the Rodeo", "Red Roses (feat. Landon Cube)", "Lust", and "Creepin (feat. Rich the Kid)". Also, since the passing of famous rapper XXXTentacion, Lil Skies has done a tribute to him by playing some of his songs in remembrance and appreciation of his work as an artist. For people at the concert who aren't familiar with his music, he came out and did his set with no problem. But for the true fans, the brevity of his set was quite frustrating.
After a long break, Rae Sremmurd came out who the crowd seemed to love.
"Rae Sremmurd was probably the best one who performed that night," Ethan Budvitis, who attended the concert, said. "If I had to put them all in order of who did the best I would say Rae Sremmurd, Wiz Khalifa, Lil Skies, and O.T. Genesis." 
The duo played classics like "Black Beatles" and "Come Get Her," along with a lot of songs from their new album SR3MM. But Rae Sremmurd didn't have a perfect concert, per se.
Towards the end of their set, it is protocol for one of the members of the duo, Swae Lee, to take phones from the crowd and even catch phones that fans through to him to take videos and pictures on stage and then give them back to their respective owners. But on this occasion, right before the drop in their number one song currently "Powerglide," a fan threw their phone at Swae Lee, hitting him in the mouth.
But as Swae said on his Instagram story after the show "the eye contact is the most important part. I was a wide receiver in high school I got the hands. I just need to make eye contact with you first." He stated this because someone in the Dallas crowd threw their phone and hit Swae Lee in the mouth while he wasn't looking. The impact of the device broke one of his teeth and busted his lip wide open. Immediately the song turned off and he started yelling at the crowd trying to find the culprit while blood is gushing out of his lip onto his hand and face. After throwing an understandable tantrum and almost walking off the stage Swae came on the mic and said that although he got messed up by the phone he was still going to finish the song. After "Powerglide" was finished he ran off stage and went straight to the hospital to get stitches on his lip.
After Slxm Jxmmi and Swae Lee of Rae Sremmurd left the stage, Wiz Khalifa finally came out. As it was his very own concert, the fans went crazy. He played classics like "Black and Yellow" and a lot of songs off of his new album Rolling Papers 2, including "Fr Fr," his song with Lil Skies who came back out on stage and they performed it together. A lot of the songs he played were well known by the crowd and it was a good change of pace for the end of the show.
To finish off the night Wiz played his song "See You Again" with Charlie Puth. That song was implemented in Fast and Furious 7 during the last scene with Paul Walker. He sang the words "I'll tell you all about it when I see you again" while the crowd all left the venue back to their respective cars to go home for the night. For all the fans, including a good number of the student body here at Carroll Senior High, the Dazed and Blazed Tour was a great way to kick off concert season.

About the Writer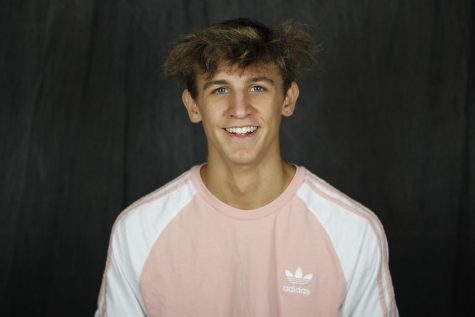 Mason Federick, Staff Writer
Mason Federick is a senior at Carroll Senior High School and this is his first year as a member of the Dragon Media. He is a leader in PALS and loves it....