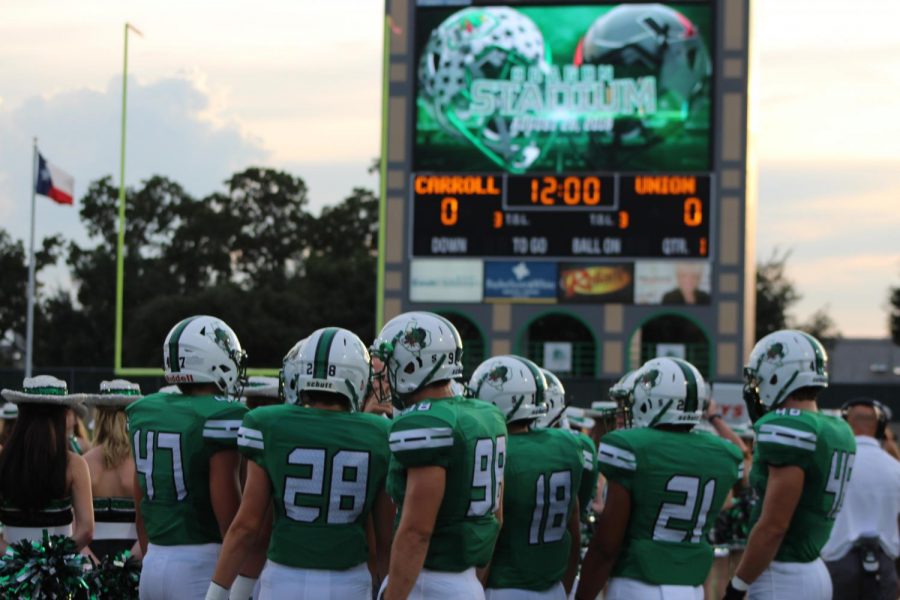 Changes underway at senior high
Bond-funded campus improvements to begin next month
October 12, 2017
In May of 2017, Carroll voters passed a 208 million dollar bond that will allow renovations and updates to all Carroll ISD campuses and facilities.
The group that was tasked with inspecting the campuses and deciding what changes were necessary was the Capital Needs Planning Committee.
"They toured every campus and had countless discussions on what our schools needed," Sheri Mills, president of CISD's board of trustees, said. "At the end of this exercise, they created a list of items that they determined were really needed to keep our schools safe, current in technology, and ready for our growing student population."
In regards to the senior high school, this list included the SAC, bathroom and classroom renovations, upgrades to technology and sports facilities, and a new fine arts center called the Performing Arts Center. The PAC will include an auditorium along with new band and choir halls. Similarly, Dragon Stadium will see some upgrades including renovated restrooms, turf replacement, and various other upgrades as needed.
The improvement that will most directly affect students here at the Senior High is the new PAC.
"I'm really excited about the domino effect that the new Fine Arts building will bring to the students," said Mills. "That one building will impact a great many students, even if they are not in band or choir."
One of the programs that will be relocating into the new building is choir.
"The added space, functionality and technology will take our class experiences to the next level," Paul Doucet, director of choirs, said. "The new facility will allow for more practice space, a more intimate performance venue and more refined classroom acoustics."
Students are also looking forward to the effect that the new performing arts center will have on their fine arts classes.
"Both classes will have more space and better acoustics for the choir room, too," sophomore Irina Zia said. "When the fine arts have more space, maybe more kids will join."
Junior Julia Bramlage feels the same way.
"It will put more emphasis on the arts and update all of our technology and work space where we spend so much time for rehearsals and class," Bramlage said. "We will be able to involve more of the community and create more advanced performances."
However, the new PAC isn't the only change coming to the campus. Carroll Senior High principal Shawn Duhon is also looking forward to an updated cafeteria and one-to-one technology.
"Every kid, every student from K-12 wants to get here to be a Carroll Senior High School Dragon. When they walk in the doors, I want them to have that 'wow' moment that they've made it, that this is the pinnacle of their high school career," Duhon said. "I think our students are going to certainly benefit from it all, so we're looking forward to it."
While many students, teachers, and administrators are looking forward to the upgrades coming to the Senior High, some of these changes will take months, even years, to complete.
"The challenge is just going to be meeting those deadlines," Duhon said.
In the end, Duhon feels that these upgrades will remind students of how much their school district cares about them and their education.
"Carroll ISD takes pride in not only their education and their learning but in their facilities. We want to take care of our students and provide them the best place to learn, and we want to give them the tools to be successful," Duhon said. "I'm excited to be here and be a part of it."