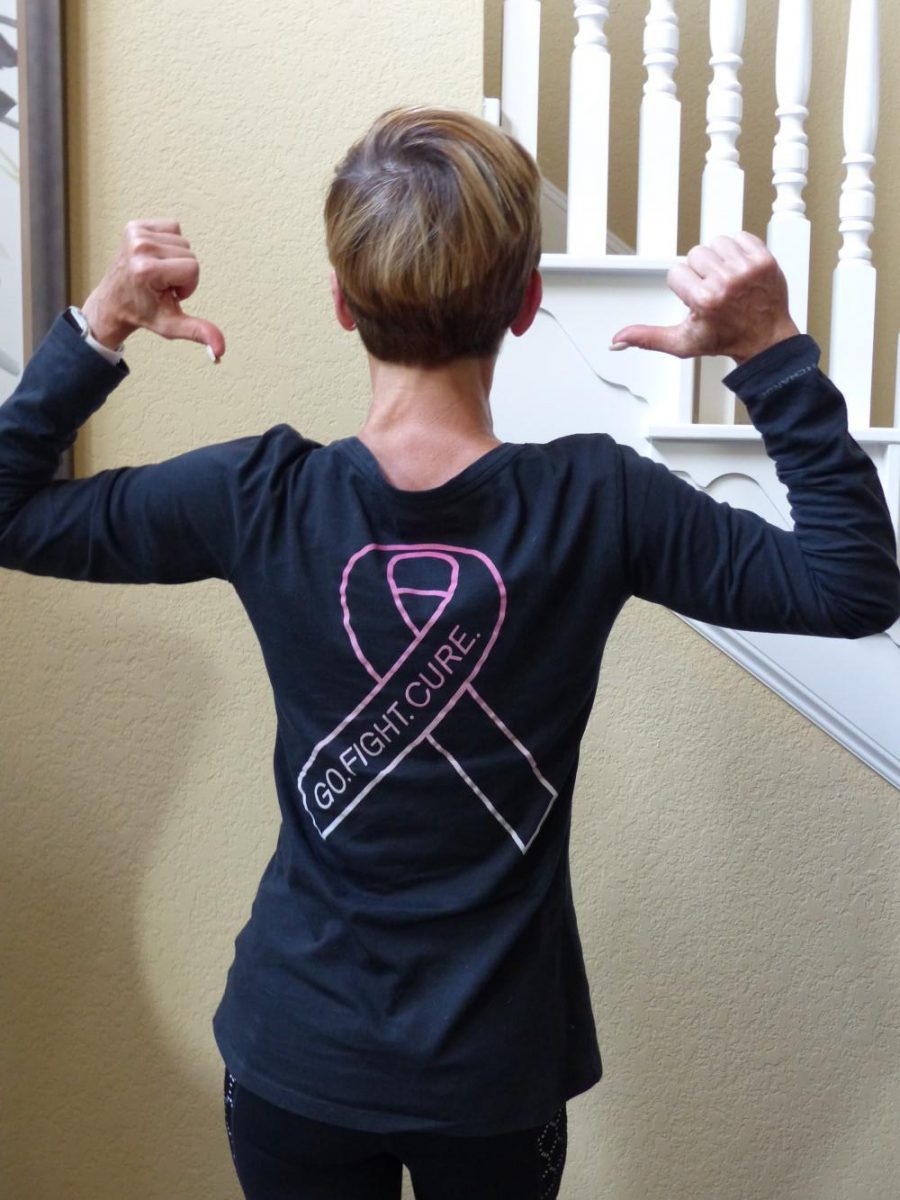 Life with a strong survivor (Opinion)
A daughter helping her mom win the fight
September 25, 2017
I didn't think that one sentence could change my family's life. My mom told me six words that autumn night that gave me a whole new perspective on life from that day forward.
"I have stage one breast cancer," she had said, slowly yet calmly. I was shocked and stunned, but I knew I had to stay positive for my mom.
One in eight women in the United States will be diagnosed with breast cancer in her lifetime. As my mother's journey began, my brain started to get scattered with anxious thoughts as her surgery date grew closer and closer to reality. I couldn't imagine what my mom was going through as I had wished there was something I could do to help. All I could do was stand by her through thick and thin.
The next day, after a successful surgery removed the tumor, I could see my brave mother for the first time. I was so excited to see her, but I didn't realize the emotions that would come with it. As I walked into the hospital room, all I could focus on were the tubes attached to her from head to toe. I saw her small grin, which gave me comfort as I saw leftover sharpie marker from places where the surgeon had left his marks.
The days after were full of hardships and improvements. I was able to help my mom walk laps around the hospital with her IV and other attachments, but she had to deal with the pain from her stitches. Every day after school, I got in the car with my father and grandparents and drove to the hospital in Fort Worth that my mom was staying at. For a while it was hard for me to focus on school because all I could focus on was my mom's well being and her recovery.
Every year, Southlake holds their annual Pink Out football game to show breast cancer awareness. To all of the families that have not been affected, this is a normal football game to watch the team play. For my family, this is so much more than just a football game.
On average, every two minutes a woman is diagnosed with breast cancer and one woman will die from breast cancer every 13 minutes. It is also the second leading cause of cancer death among women.
You may think it may not impact your family, but your life could very well change because of a simple diagnosis.
My mom got the best of the worst as she was lucky enough to not need chemotherapy, which usually creates an even harder and longer battle. Foundations such as Susan G. Komen and others are always looking for donations to help find a cure for this impacting disease.
Three years later, my mom is breast cancer free. She was lucky that her doctors caught it early and were able to remove the tumor before it started to spread. My mom and I believe in the saying: "everything happens for a reason."
This whole journey has showed my family that you can't take anything for granted and that you should live life to the fullest. Breast cancer is an ongoing fight, and foundations such as Susan G. Komen are doing all they can do to spread awareness to the public by organizing inspiring events such as pink out games and marathons to get people to spread the word and donate.
Today there isn't a cure, but hopefully one day cancer will be cured once and for all. All we can do now is be brave, be strong, support others, and keep fighting to win against breast cancer.